Windows VPN app is a great option to improve PC protection. uVPN application for Windows devices protects your data with military-grade encryption. VPN was designed with an emphasis on security and anonymity online, but herewith it simple and easy to use. Open free access to any blocked content in your country using a VPN with a good amount of servers around the world.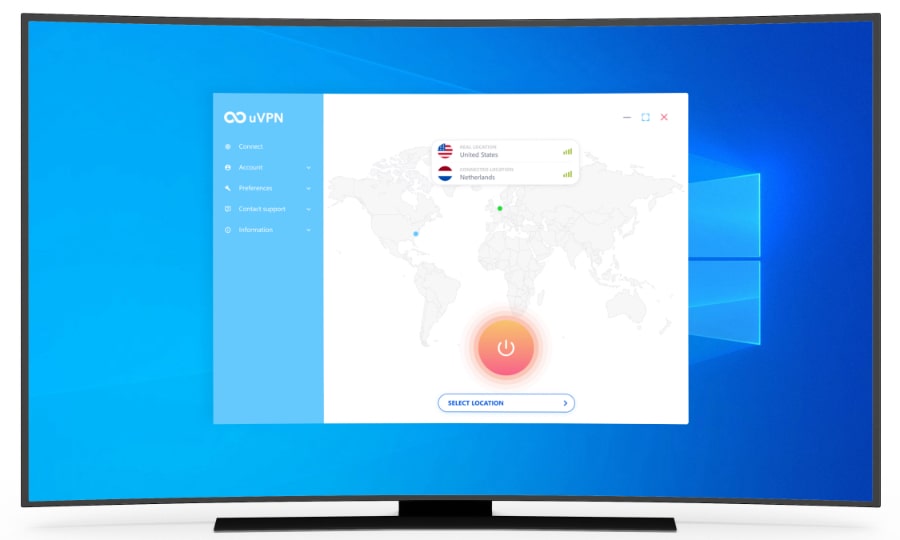 Download and Install Windows VPN app
Open uVPN Windows download page.
Click on download.
Go to the download folder and install uVPNSetup.exe
The Installer will open. Press Continue on the first screen.
Agree with the license terms and conditions. Then press Install to continue installation in the selected folder.
A new window may pop up, asking "Do you want to allow this app to make changes to your device?". Click Yes.
Wait for the VPN to install on your computer.
Congratulations! Now your Windows PC is completely safe online.
How to use Windows VPN app
Let's move on to the first launch of the uVPN application! Using VPN on Windows 7 and later versions very simple!
Run the application from the desktop or from the folder in which the VPN was installed.
Enter your information (login and password) in the appropriate fields. If you are a new user, you have to create yourself an uVPN account just by clicking on SIGN UP HERE.
Right after signing in, select the server in the list at the bottom of the screen.
Wait until the location you chose is connected.
Now your Windows VPN app is ready to protect your computer, moreover, you have become completely anonymous on the Internet.
You might want to check out: