Unblock games to play anything you wanted
uVPN allows you to unblock games on any platform for any device. Play MMO, FPS, strategy and access online poker for free.

✓ Unblock games on EGS, GOG, Steam, Origin
✓ Access poker and gambling; unblock Roobet from anywhere.
✓ uVPN is available for all gaming platforms: Switch, PS4, PS5, Xbox One X/S, Xbox Series X/S and emulators for old games.
Get uVPN right now
100% Money-back guarantee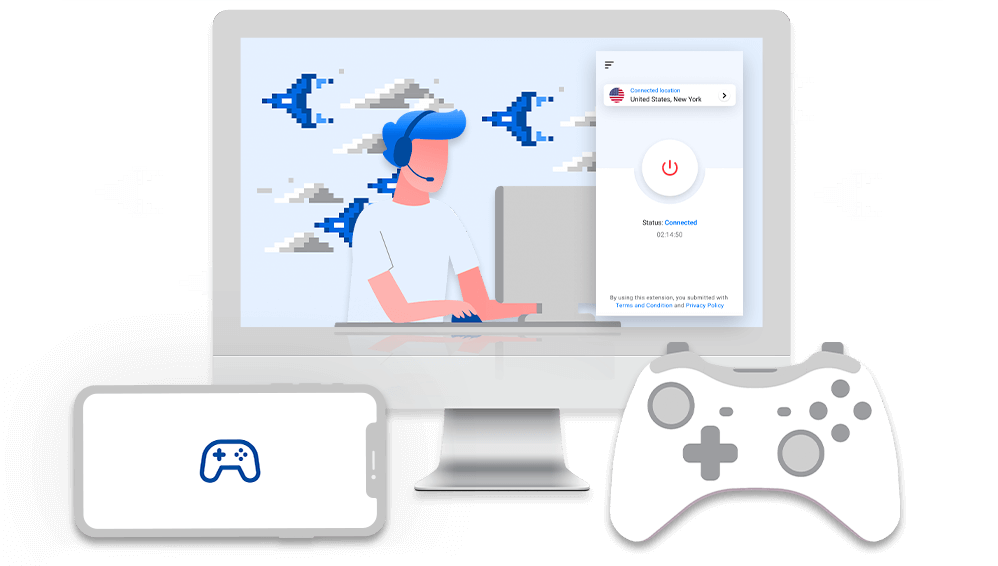 Why Blocked Games Exist?
Your internet activity is monitored by people at your school or work. uVPN - the game unblocker is right behind to assist you because it should be your decision to agree or disagree with restrictions and blocks.

Almost all public networks, like colleges, schools and libraries, put up a firewall to block access to gaming platforms. The firewall will prevent you from accessing the gaming platforms you desire, even if you are using your own device.

You have to unblock blocked games, there are not a lot of games that are not blocked, that is because the dissemination of games in different countries is limited by game distribution platforms.
Unblock Games now!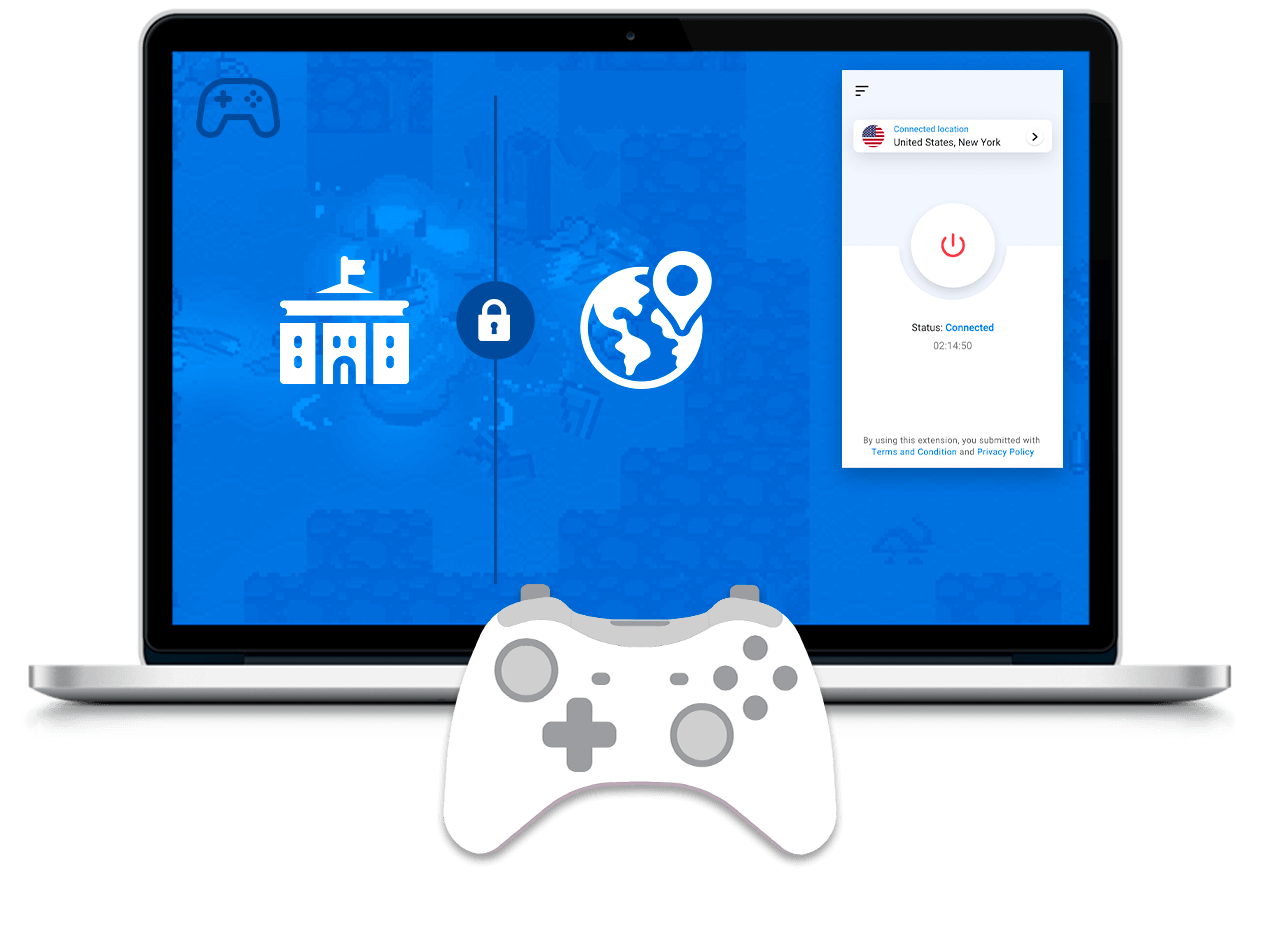 How to Unblock Games with a VPN?
Change IP address
While you are connected to our servers with fast and stable connection, the game you're playing can't detect your real location. Connect to a server in the country where the game you want to play is available for playing and show your skill to the whole world!
End-to-end encryption
uVPN can hide all your online activity with the help of best-in-class end-to-end encryption. Your ISP (Internet Service Provider) won't know what you're doing online, so you can game worry-free about your security and important information about you.
This is why you need a VPN to play games
The Blazing-fast internet speed provided by uVPN will rid you of annoying lags, high ping, constant buffering of the game content, desynchronization and connection failures.
Protection from DDoS attacks
Cybersports is gaining more and more popularity, but the problem of DDoS attacks is still unresolved - unfair players use this kind of exploit all the time. That is why to compete on the highest level you require the best VPN protection.
Get access to new games earlier
Once in a while, some countries get a new game release earlier than others. Connect to the uVPN server in that country and play a long-awaited game among the first players to touch the game. Also you will ensure your anonymity is 100% safe.
No lags, Low ping
In fast-paced games, every millisecond counts, that is why having a low ping is very important. uVPN can provide you with servers that will lower your ping and make sure you are getting only the best experience playing competitive games.
Play the game no matter where you are
Your current location makes no difference, with uVPN you can unblock games you want - all you need to have is an internet connection. uVPN gives you a choice between servers that stretch across the globe.
Increase your data protection
When you are online you always need as much protection as possible, furthermore, when you play games or stream the chances of IP leak are magnified. Using uVPN you will increase your personal data protection with military level encryption.
One app for every platform
The uVPN team always expands the list of platforms our VPN is available on. You can play on every major platform with uVPN up and running, it only takes a few seconds to unblock all games and start protecting your gaming device.
FAQ: How to Unblock Games
How to unblock games on school computer?
To unblock games on school computer you have to follow these 3 steps:

1. Get a VPN that is able to bypass game restrictions applied in your school, for example, uVPN will do the job.
2. Connect to a server located in the country where the game can be played.
3. Enjoy the long-awaited gaming experience.
How to unblock games on school WiFi?
Schools provide a free internet connection to students, but this connection has many restrictions for studying purposes, so only educational content is allowed. Installing and using a good VPN service will let you bypass those restrictions and unblock games on school WiFi.
How do I unblock Minecraft at school?
By following the next steps you will be able to unblock Minecraft at school:
Step 1: Search for uVPN application in Google Play or App Store
Step 2: Download free uVPN app on your device
Step 3: Open uVPN and press connect, you will be connected to a VPN server in another country
Step 4: With uVPN up and running, launch Minecraft to play
Step 5: Play Minecraft unrestrictedly
What is the best free VPN?
The best free VPN should be able to unblock websites, encrypt data + income and outcome traffic, change real location, hide your IP address. The best free VPN, like uVPN, will provide you with private internet access and fast VPN connection speed. Though, we do not recommend using a fully free VPN, as a good VPN needs a constant source of money to provide the required level of service. The privacy and security service won't be on the same level as paid VPN. Some free VPN might sell your personal data or increase attack vulnerability. We recommend uVPN as the best free VPN in the world.
How do I unblock a game server?
To unblock a game server you have to change IP address, which means you have to obtain a VPN service strong enough to hide real IP and provide you with the new one. When you connect to a VPN the server might think that you are another person from another country and might give you access to the server.
How can I play Minecraft for free?
There are a lot of ways using which you can play Minecraft for free.
But the easiest one is to play the classic original free Mincrefat on the official website classic.minecraft.net right on your web browser. No need to install. or download anything, you can start right playing right away. To celebrate the 10 year anniversary of Minecraft, MINECRAFT CLASSIC has been released to the browser.