Download VPN for Windows 11
uVPN for Windows
Protect yourself with the Secure VPN for Windows, it's only a click away from you. uVPN has been designed for the latest Windows 11 and is certainly suitable for Windows 10 and 7. Our VPN for Windows 11 is simple and free to install, nice & easy to use and it makes you secure and anonymous with a bunch of useful features.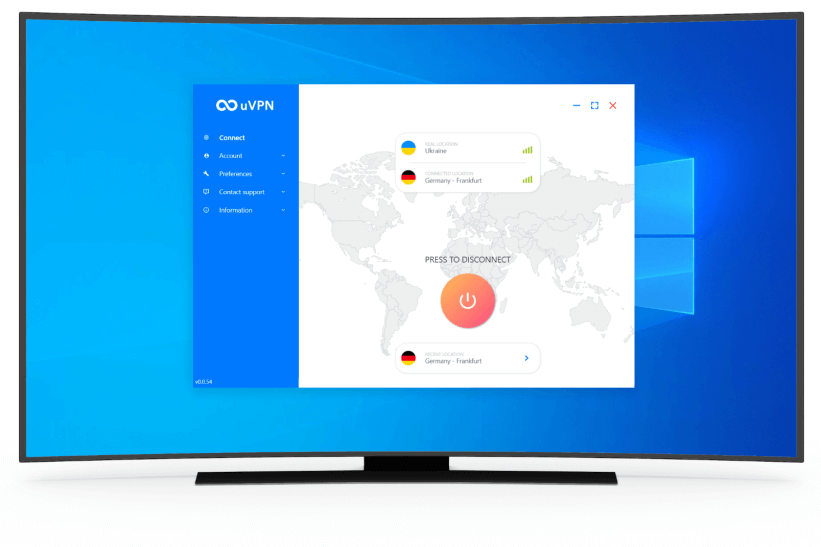 Simple application. Comprehensive possibilities.
The key parts of uVPN are simple settings and an intuitive interface — not to the detriment of maximum protection. If you want to operate with a wider list of options just open the settings and manage your account to customize it for yourself with a diverse range of features. VPN tunnel allows you to use optimal protocol selection or manually choose between UDP, TCP, IPsec/IKEv2 for your connection, enable Kill Switch to ensure no information is leaking with VPN client.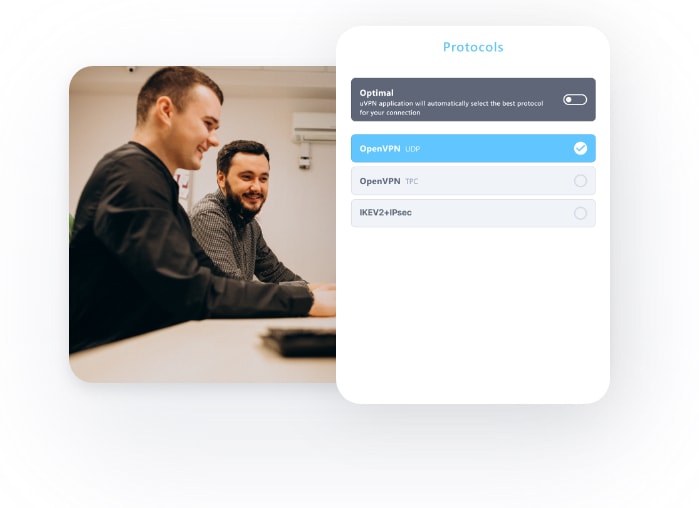 Beyond boundaries with best VPN for Windows 11
With a VPN for Windows, you are just one click away to open all borders and opportunities — it's that easy-to-use! Touch VPN connect button to unblock the internet restrictions. Untie your hands, dive into the world of open doors, and browse privately and securely. You are free to choose the way you go, no one can block your path and put pressure on you because your PC is protected by uVPN for Windows 11!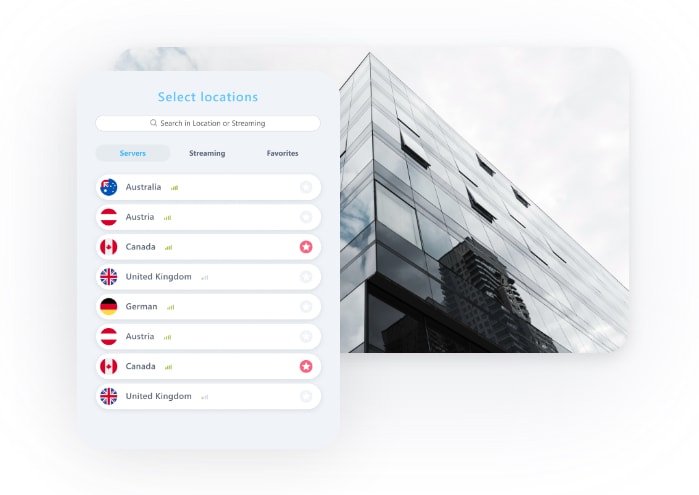 Frequently Asked Questions
Answers to questions you might be interested in.
How to watch Netflix with VPN for Windows?
To watch Netflix US with VPN for Windows you just need to install uVPN, open it and connect to the Netflix VPN streaming server. uVPN is Netflix VPN, it designed to unblock Netflix restrictions with no consequences at all, special VPN servers will protect you from blocking and blacklisting your Netflix account. With VPN client for Windows 10 watching Netflix has never been so easy.
What is VPN for Windows?
VPN for Windows is security software that can hide IP and unblock websites, but more importantly, it provides extra protection for your Windows device. uVPN for PC stands for the virtual private network and connects you to a server in any country you choose.
How to change IP address on Windows 11?
VPN has many good features, the key feature allows you to hide my location, change IP address on Windows 11, and unblock websites and information. To hide IP, simply download & run uVPN and connect to any VPN server.
What is the best free VPN for Windows 11?
The best free VPN should comply with the list of requirements. Best free VPN for Windows 11 must:
– encrypt income traffic and outcome data
– provide secure VPN connection
– unblock websites and unblock Netflix
– hide your real IP address
And most importantly the best VPN must be able to connect you to VPN from anywhere in the world! Considering all of the above, uVPN is the best free VPN for Windows 10 you can find.
How to setup a VPN for Windows 11?
In modern times, to setup a VPN for Windows 10 you have to make a few easy steps.
So, how to setup a VPN for Windows 11?
1) Download free VPN at https://uvpn.me/downloads/vpn-for-windows/
2) Install secure VPN to any folder
3) Launch uVPN shortcut on the desktop
4) Connect to any protected VPN server
Done! From now on you have a hidden IP address, safe public wi-fi connection and encrypted data. Private VPN service will take good care of you!
Does Windows 11 have VPN?
There is no in-built Windows 11 VPN, you have to find one yourself. Simply saying no, Windows 11 does not have VPN. Go to the Windows 11 VPN page and download VPN app. After the installation, Windows 11 VPN will be ready to hide IP, unblock websites and protect your online identity.