Why you need a VPN for streaming
Streaming services are getting more popularity and every major media company is trying to create a streaming platform of their own with exclusive & original content to get a share on the market, just like Netflix did. But the best platforms like Hulu, HBO Max and Disney+ are located in the USA and they limit or completely disable content availability for the rest of the world.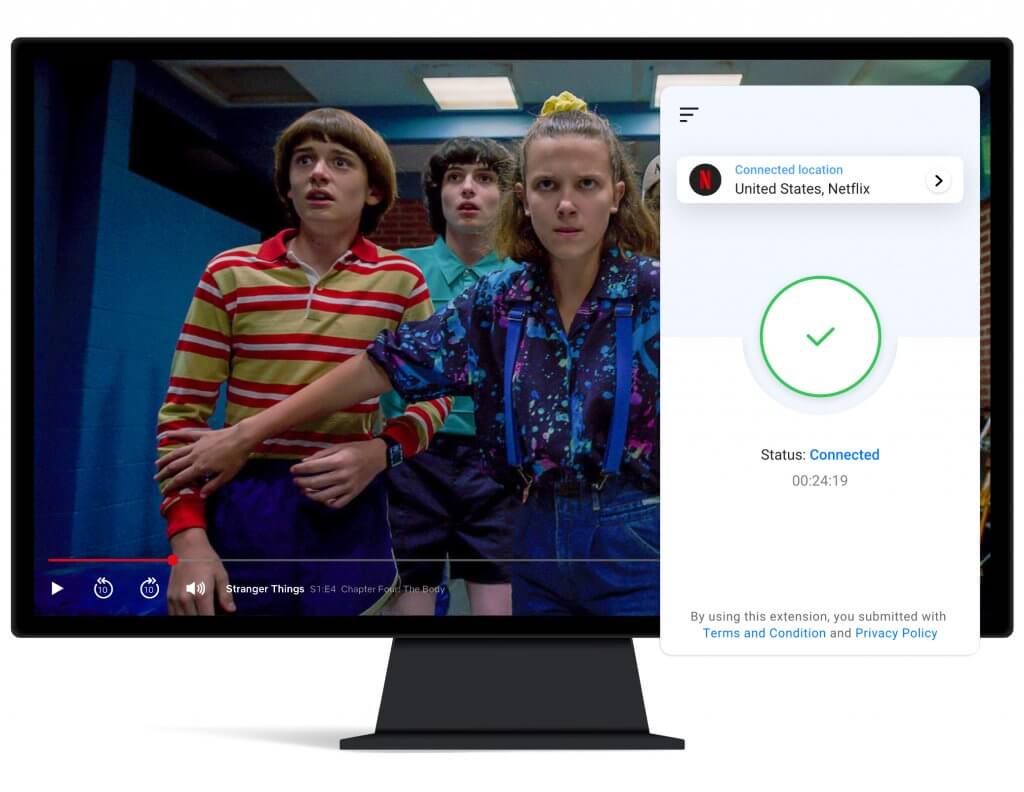 A VPN for streaming
Thankfully, we have a VPN (virtual private network) that resolves most of the streaming problems for situations we mentioned above. The best VPN for streaming will help with a bandwidth throttling issue, get you over any geo-restrictions and unblock content you desire.
Bypass geo-restrictions
By its nature, a VPN is your personal IP address changer, all websites and apps will consider you as a user from any country you choose. Travel around the world as far as you want, feel no pressure streaming any content from your new location.
HBO, Netflix and Disney make great efforts to paralyze any proxy capabilities. Say no to free VPN for streaming, only the best VPN service (for example uVPN) can get you past any geo-block restrictions while being undetectable for all streaming services.
Don't worry, you won't get banned by the service provider, it's very legal to use a proxy connection or VPN for streaming.
Stop stream buffering
While streaming, internet service providers may intentionally slow down your connection speed because they want to limit the biggest traffic consumers. That is called bandwidth throttling, which will cause your streaming buffer very frequently.
But with a good VPN, your income and outcome data will be encrypted with a special cipher, it will keep your internet activity logs out of sight of your internet provider. Missing the key data, your ISP won't apply speed limitations on you, so any buffering will disappear.
Why uVPN
Many VPNs considered to be good services, but is it true? While searching for the best VPN solution, you will find a lot of services with a wide price range from cheap to expensive – but the price tag tells nothing about the quality. Being affordable for everyone, on the one hand, uVPN proposes excellent service on the other hand.
Special servers created for streaming
A simple VPN for streaming allows you to hide IP and change your actual location, but a good one will unblock all possibilities, including streaming. uVPN has special undetectable servers created exclusively for streaming, that is why you are never going to be blocked or restricted while watching your favorite movies on Disney+, HBO Max or Hulu.
uVPN provides a fast and reliable connection to stream without buffering across all your devices – yes, VPN streaming is available for up to 10 devices at the same time. The service tunnels your connection through protected and anonymous routs using the latest encryption technology.
We think that a good VPN service must do everything possible to make sure your streaming experience is low-risk & secure and we highly recommend using only the best VPN for streaming, that is why watching streams is safe and effective with uVPN.
Wide list of streaming services
uVPN has a high count of special streaming servers around the whole world, it will help you find a good connection and unblock streaming services in the country you need with help of a VPN for streaming. SonyLiv and Hotstar in India, HBO Max and Hulu in the US, BBC iPlayer and All4 in the UK, we can add to the list all streaming services in Germany, Italy, Japan, Brazil and many more countries.

All you have to do is just turn on uVPN, choose and connect to a streaming service you would love to watch from the catalog. That's it, now you can go to the streaming website or open the application and watch your favorite show without interference and interruptions.
VPN price advantage
As an up-to-date VPN service, uVPN supports modest price tags for security applications, that is why you are able to choose 9 different options within 3 subscription plans. Additionally, uVPN offers you up to seven days of a free trial period, so you can try all entertainment features putting nothing on the line.
We can all agree when it comes to streaming a strong and reliable VPN is essential, the best choice would be uVPN.